SOLAR ELECTRICITY PRODUCTS
Sunpower Solar Panels
SunPower solar panels achieve record panel efficiencies of over 20%. The panels are the most powerful and reliable solar energy panels available on the market today, delivering the most electricity over the lifetime of your system.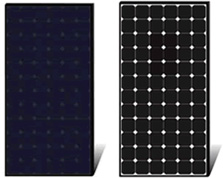 Sunpower X-Series Solar Panels
SunPower X-Series solar panels give homeowners more energy, flexibility, peace of mind and lower electricity bills. X-Series residential panels convert more sunlight to electricity producing 44% more power per panel, and 75% more energy per square foot over 25 years.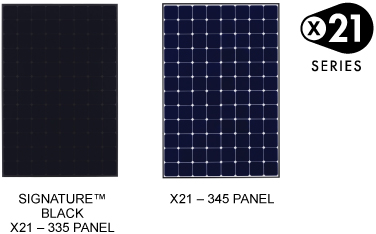 Sunpower Inverters
The SunPower Inverter manufactured for SunPower by SMA. This inverter is one of the most used inverters worldwide and has a proven track record for durability and reliability. Well suited for solar arrays located in full-sun locations with up to 5000 watts of DC input in 240v residential systems. It's integrated DC disconnect and rounded corner form factor make for a clean appearance. Operates at a peak efficiency up to 96.8% (96% CEC) The SunPower 4000m is protected by a 10 year limited warranty.
SMA Inverters
Maximum energy yields for a continuously expanding photovoltaic market: the Sunny Boys with UL listing is impressive with its excellent efficiency. Graduated power classes provide flexibility in plant planning. The automatic grid voltage detection allows easy and safe installation. Furthermore, the galvanic isolation provides flexible connection possibilities. The Sunny Boy inverters can be used with crystalline cells as well as thin-film PV modules.
SolarEdge Power Optimizer
The SolarEdge power optimizer is a DC/DC converter which is connected by installers to each PV module or embedded by module manufacturers, replacing the traditional solar junction box. The SolarEdge power optimizers increase energy output from PV systems by constantly tracking the maximum power point (MPPT) of each module individually.
SolarEdge Single Phase Inverters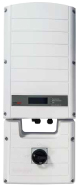 The SolarEdge PV inverter combines sophisticated digital control technology with efficient power conversion architecture to achieve superior solar power harvesting and best-in-class reliability.
A proprietary data monitoring receiver has been integrated into the single phase solar inverter and aggregates the power optimizer performance data from each PV module. This data can be transmitted to the web and accessed via the SolarEdge monitoring portal for performance analysis, fault detection and troubleshooting of PV systems.
Suniva Optimus® Series Monocrystalline Solar Modules
The Optimus® modules consist of Suniva's latest technology: ARTisun® Select. These superior monocrystalline cells are designed and manufactured in the U.S.A. using our proprietary low-cost processing techniques. Engineered with our pioneering ion implantation technology, high power-density Optimus modules provide excellent value, performance and reliability.
Fronius Inverters
As one of Europe's leading manufacturers, Fronius inverters offer outstanding quality and represent one of the best values in the industry. SPS offers the following lines of Fronius Grid-Connected PV inverters, along with production and installation site monitoring equipment.